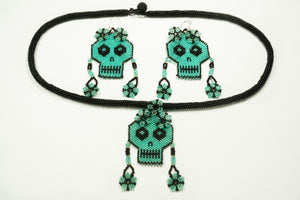 La Catrina is the iconic image of Mexican Folk Culture and Traditions.  The Lady of Death dates back to the Aztec Goddess Mictecacihuatl - the Queen of the Underworld.  
She reigns during el Dia de los Muertos, a millennial holiday celebrated in most villages throughout Mexico and Central America.
My Catrinas are inspired by the Posada drawings of the skeleton wearing larger than life hats with feathers and flowers.  
This set includes a pair of La Catrina Earrings with matching necklace on a beaded chain