THE PERFECT PAIR

Curate Sets Made for Gifting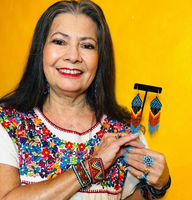 Art as Meditation
For Carmen, beading is a form of meditation and jewelry a source of empowerment. Each piece is a prayer for peace, love, harmony, health, beauty, prosperity,  wisdom and wealth.
The art of adornment is ancient and empowering to women of all ages and cultures.
Glass beads have been utilized for thousands of years as currency, gifts, works of art and symbols of high status. They are recorded throughout history as being created, traded, and worn as jewelry by the earliest civilized societies, from Egyptians to Romans, Vikings to Native Americans.
Carmen Creations' jewelry draws from ancient traditions to create modern works of wearable art.
Learn More